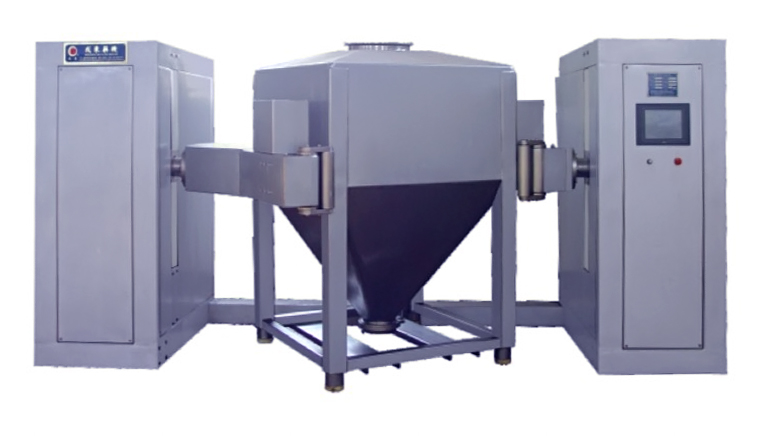 Use
ATH series automatic lifting barrel mixer can clamp hoppers of different sizes, auto-completion of clamping, lifting, mixing, fall, loose folder, and all other actions.
Working Principle
Moving square hopper into rotary body, this machine can lift rotary body to a certain height automatic and clamp the hopper; pressure sensors will drive the system do mixing according the setting parameters automatically after receive the clamping signal; when reach to setting time, rotary body will stop the state in the hopper and the braking system to work automatically, mixed finished, then the upgrade system works, drop the rotary down to the ground and release the clamping system; remove the hopper to complete mixing cycle, and print complete datas of this batch of mixing automatically.
Feature
1. Rotary (hopper) of the rotation axis and the geometrical symmetry axis form an angle, the material in hopper is stirred with rotary body, and also do the tangential motion along the headwall; materials make a strong rolling-over and higher tangential motion, to
achieve the best mixing effect.
2. This machine can clamp hopper with different specifications, can adapt to Product requirement of many varieties of solid preparation for total mixing.
3. This machine can complete all the programs of lifting and mixing automatically, can clamp the hopper automatically, cancel the dedicated lifting forklift of mixer.
4. This machine adopts PLC automatic control, and set a Isolation chain device, start to work automatically after the operator leaved the work area, improve the security.
5. There is frameworks out the A-type hybrid barrel, B-type is a newest patented technology. adopts design of outside framework, has advantages of easy to use, mixed more evenly and others, meet (GMP) standards.


Technical Parameter