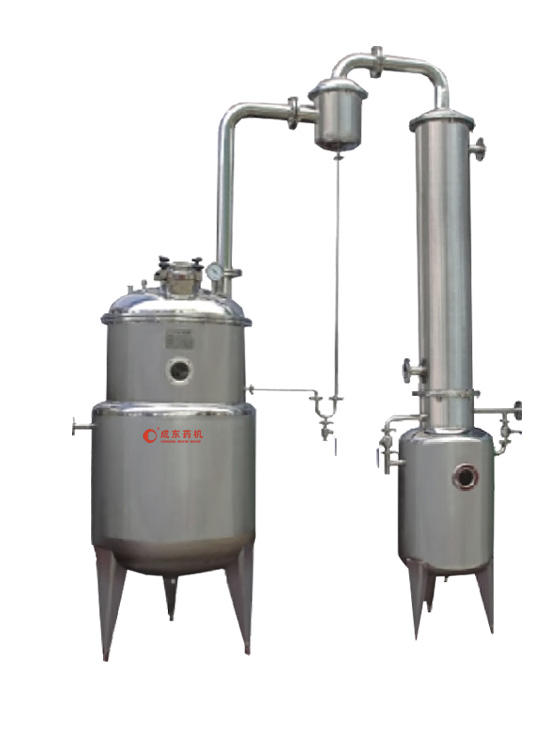 Use
This equipment is mainly used for pharmaceutical, food, health care products, oral liquid, fruit juice industry, light industry to do concentration and distillation of liquid materials, can be used to recover alcohol and simple reflux extraction of other solvents.

Structural Characteristics
The device is consists of four series of specifications(see technical data), all made of stainless steel material, compact structure, beautiful appearance, the condenser of equipment tube type, cooler is coil type, the effect is better if use mixing or dynamic extraction in high enrichment condition. Setted automatic drainage device, condensate water from evaporation can drains out automatically.
Working Pinciple
Pump material into the concentrator, use jacket connect with steam to heat, take the endoscopic center in the tank as the high degree of feeding, control the the back flow of rising steam through the first condenser, according to different materials to control bubble and some of the high boiling point liquid which carried by in-tank temperature separate from the gas-liquid separator tank back to concentrator, for industrial solvents (alcohol), finally get them from the liquid receiver tank through the second condenser and cool.
This equipment can produce in ordinary pressure or reduced pressure, can product intermittently or continuously, feeding when product continuously the feeding tube should add flow meter, in a continuous process of decompression, discharge of the concentrator, should
recover the ordinary pressure at first, meet (GMP) standards.
Technical Parameter