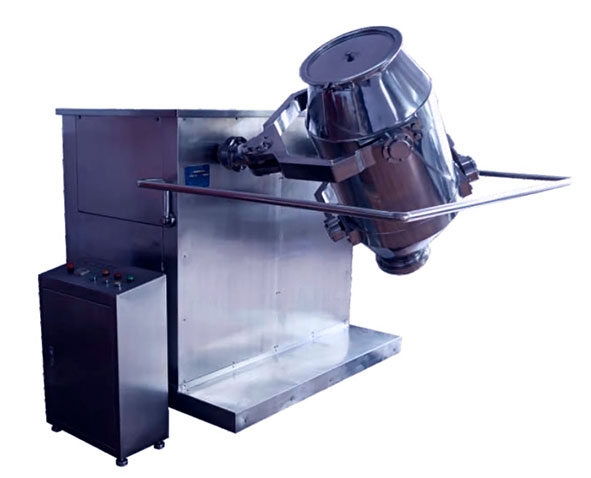 Use
It is suitable for medicine(Chinese herbal medicine and Western medicine, preparation), chemical industry (industrial chemicals, dye and coating materials), light industry (foodstuff, plastic), agriculture (seed treatment, feed additives) and other materials that need to be mixed, which can uniform mix the powder with high fluidity and granular material, making the material reach up to the best quality.
Working Principle
During the operation of the mixer, the drum rotates with multi direction, accelerating the flowing and diffusion of the material. In addition, compared with general mixer, it avoids the weight proportion deflexion and accumulation under a non-centrifugal force, guaranteeing uniform mixing and no dead corner.

Characteristic
1. Good mix effect, short mix time, and the mix uniformity reaches as high as above 99.9%.
2. With large loading coefficient, reach up to 85% of the volume ratio, is 2 times of the general mixer.
3. Low in height, small in rotation space. Commonly, no special construction is needed, easy to clean.
4. Special drum design with easy feeding and discharging, no dead angle and remnant.
5.Automatic braking positioning control system, the discharge is thorough, not product materials, not surplus materials.
6. Unique driven shaft swinging arm patent technology, can resolve the problem of 3D peak stress resulted by the machine operation, operate smoothly, low noise, long service life, meet (GMP) standards.

Technical Parameter